Harley Box 9ft long 4ft wide
Buy Harley Box 9ft long 4ft wide
Armadilloboxes
Stylish and secure
A box you can be proud of not hide
Motorcycle secure sheds (Units) out of sight out of mind out of reach.
Insurance companies love security contact yours for premium discounts
Covers don't really cut it once it's wet it's wet and offers no security and the bike is wrapped like a present, locks and chains work but again once they get wet they are a mess.  These units enhance your security good on the eye and so dam easy to use and just the right size that your rides not going to compete with the mower.
The units are designed to be right other manufacturers have started with a cheap material (they don't give thickness) and designed a work around, we started with 1.2mm galvanised steel (more information on galvanised) because its structurally sound we also double fold each seam, we were surprised and shocked when the quality item that we produce is comparable in price to the 0.5mm plastic coated ones that are held together with self-tapping screws.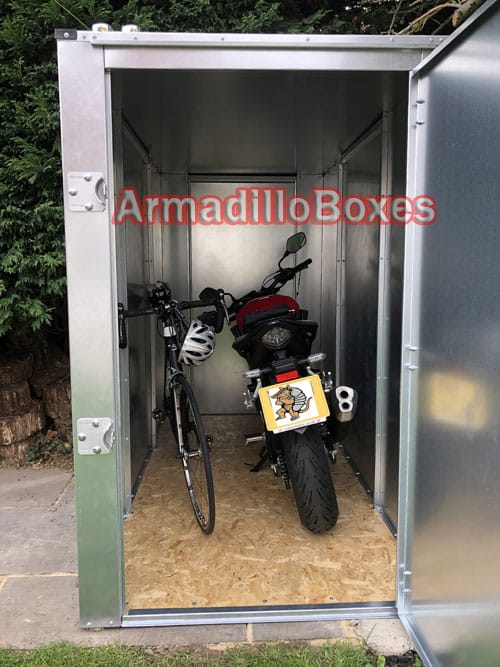 Call me on 07816786985
or Message me
email me: ArmadilloBoxes
Please see Description and review tabs below
[metaslider id=390]
Without Doubt the best unit on the market 
Stylish and Secure Harley Box 9ft long 4ft wide
We assemble free of Charge it takes just over an hour
Welcome to the heavy weight division with our smallest units weighing over 34 stone made from 1.2mm galvanised steel nearly 3 times thicker than the plastic coated ones enabling us to use the heaviest locks, no amount of wind is going to put our units in a tree so strong they will stand on gravel or grass
9ft long 4ft wide unit pictured is 4ft height and the bike in picture is an Harley V rod a low box for a low rider when there just isnt room for a full garage or shed. We can increase height up to 6ft for the same price, for extra length please ask for quote.
Insurance companies love security contact yours for premium discounts
Upgrade security by fitting extra hinges making a total of Five (standard is 3 hinges extra hinges are £15 per hinge) and two van type locks by masterlock these are £50 and 5 stars on the screwfix website we pass on our discount so can fit for £40 each
Please see 6ft tall 4ft by 8ft box for details
Price does not include structural wood floor which is £50 extra
(Carpet and soundproof insulation in one of the pictures is not included it was completed by the owner but it shows a frontal of an Harley to give idea of space)