Security
When it comes to motorcycles security is endless, Ground anchors chains alarms we dont want to dictate budgets but happy to advise, our units are made from 1.2mm galvanised steel so a great starting or ending point.
As a testament to our boxes (Mobility ones included) a motorcycle unit customer after considering all other sheds with an open budget decided to buy ours and leave box basically as standard but to fit an alarm CCTV and a ground anchor.
We don't fit alarms we stick to cold hard steel, the alarm industry is ever changing and we wouldn't want to be recommending last years tech.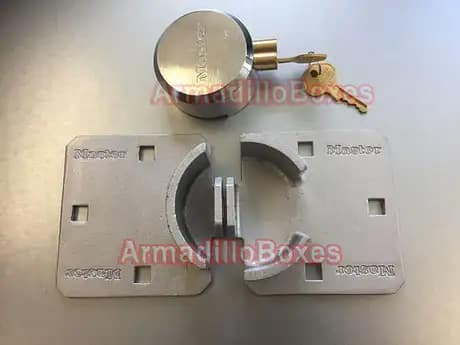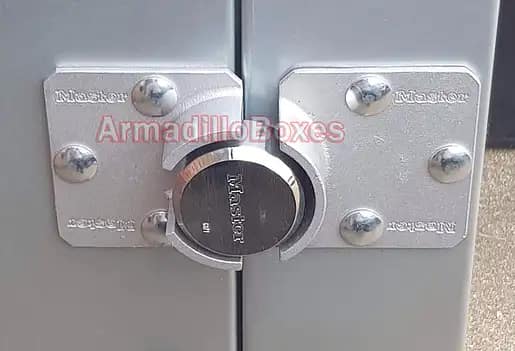 We fit locking lever type handles for leverage of frail hands (mobility customers) made from die cast Magnesium for anti rust each having unique keys low security but its the beginning , the hinges are also die cast magnesium with hidden bolt configuration and anti tamper stainless steel pins bare in mind on single door units a thief has to go through the lock cutting hinges wont enable the door to open outwards to remove your ride, both are fine even for coastal locations.
If you need to ramp up the security we have high quality seven bolt fixing Hasp and staples ideal for the mobility scooter units (we don't supply the padlock choice is endless) for the motorcycle units extra heavy duty anti bolt cutting van type locks.
For Fort Knox type security Motorcycle security,Its about layering security until your happy. Your starting with the right box (also a dry environment inside the unit makes chains and padlocks much easier to use) 1.2mm galvanised steel double folded seams and bolted together with high tensile steel nuts and bolts, with the total weight being around 230 kilo 34 stone for a motorcycle unit its meaty. We can add more hinges 3 being standard however our door design on our units means even if you cut the hinges the door cant be opened outwards so a thief still has to tackle the lock to get your bike out Note: The more hinges the more of the deterrent and the would be thief is not to know he his wasting his time attacking them.
Van style anti bolt cutting locks Chosen by tradesmen and are pictured below we can supply and fit these for £40 each (Screwfix £50 five stars) Master 736EURD which are the updated European model, these locks are designed for security no other unit can carry a lock of this size for our extra thick 1.2mm galvanised steel unit its spot on.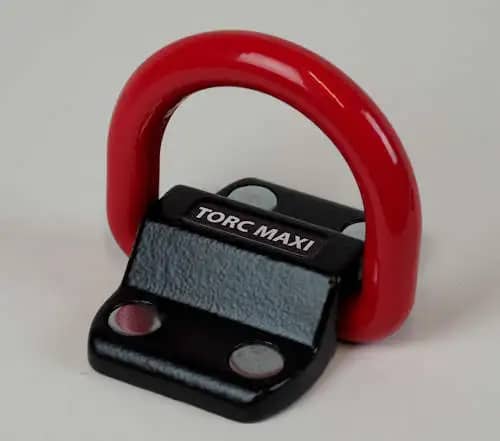 Ground Anchors 
We have a choice of Anchors Ryde Budget 13mm Shackle and the class leading Torc 3 with 22mm thick shackles prices are including fitting
All are secured to a plate that fits underneath the bolted down wood sub floor and your bike sits on top.
They stay integral to the box they are not bolted through the steel floor into your hard standing ideal for block paving, tarmac, gravel or grass and if you don't want to be drilling into where it sits.
Torc 3 Maxi £85 with 22 mm thick shackle 65mm clearance
Torc 3 Mega £95 with 22 mm thick shackle  80 mm clearance
If you have an existing anchor or want to pre install one of your choice that's concreted in we can fit our unit over the top,
Bonus with the units is the chains and locks will keep clean and dry.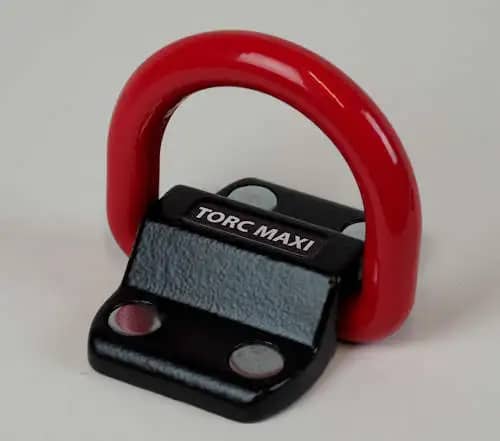 If you have an existing anchor or want to pre install one of your choice that's concreted in we can fit our unit over the top,
Bonus with the units is the chains and locks will keep clean and dry.
We do not use 3 point locking, this actually is low security the door only needs to be bent to open fully, Thief's have no qualms about destroying things. We where burgled by the use of next doors spade when an expensive PVC 3 point locking door was just popped open.
Unit below was fabricated for someone who was absolutely determined that no one was taking his ride, bare in mind you have to go through the locks even if you remove hinges the door cant be opened outwards p.s its not a standard box like all our units its made to your requirements.